Parish Ministries
In the Service of Christ, Our Light
Ministries at The Church of the Little Flower are dedicated to upholding and promoting the values of the Gospel of Jesus Christ. Through them, parishioners give active witness to their faith, and form a community of believers in common discipleship.
The official ministries described below (among many other unseen works of virtue) are emblematic of a collaborative effort to spread the Gospel.
All ministries at the Church of the Little Flower seek to bring Christ's Light to others in the spirit of fraternal charity, inspired by Jesus' own words, prominently displayed above the high altar of our church: EGO SUM LUX MUNDI (I am the Light of the World).
We look forward to having you join us on our journey of service, giving witness to Christ, our Light.
Altar Linen Ministry
Seeing to it that all the linens and altar cloths for liturgical use are always clean and presentable for Holy Mass is of incalculable importance to the dignity of the mysteries we celebrate with such frequency. Fortunate we are, indeed, to have individuals who lovingly give of their time to perform this significant service.
Contact

Eleonora Cacchione, ele6ele@gmail.com
Top
Altar Servers
Boys and girls of the parish, at any point after having received their First Holy Communion, can participate in the service of the liturgy, assisting the priests and deacons by serving at Holy Mass. Training for new servers happens periodically, and server assignments are posted and scheduled each month.
For Ministry schedules, please click here
Contact

Carmen Santamaria, carmen.l.santamaria@gmail.com
Top
Baptismal Preparation Classes (English and Spanish)
Education and training is provided on a regular basis, in English and Spanish, on Saturday mornings, by deacons and adult catechists to prepare parents and godparents for the reception of their children into the sacramental life of the Church.
Contact

Parish Office
Top
Bible Study (English)
Discussion groups which study the Sacred Scriptures are available weekly at the Parish Center.
Contact

Julie Otero, jotero@vistacolor.com
Top
Catechists
Making concrete the universal call to evangelize, volunteer catechists teach the Religious Education classes, passing on the Catholic faith and assisting in the Sacramental preparation of our children.
Contact

Jorge Santibañez, jsantibanez@cotlf.org
Top
Catholic Disciples in the Public Square
Founded by Father Davis in 2012, PSD is an organization dedicated to applying Catholic teaching in the "public square" of life. Its members learn Catholic social doctrine, participate in prayer and adoration, foster social cohesion and community, and are committed to action on behalf of causes dear to the Church. Promoting religious freedom and celebrating our national Catholic heritage are among the key components of its efforts.
Top
Charismatic Prayer Group (English and Spanish)
Available in English and in Spanish, the "Grupos de Oracion" reflect the spirituality and mission of the Catholic Charismatic Renewal movement of the Archdiocese of Miami. Supported by Scripture, song, and testimonials, the groups gather weekly to praise, glorify, adore, and give thanks to God.
Contact

Felipe Vizcarrondo, fevmd@bellsouth.net
Teresita Perez-Dorrbecker, tgp18@att.net (English)
Daisy Muik, dmuik48@yahoo.com (Spanish)
Top
Concert Series
Contact

Luis Cuza, lcuza@cotlf.org (Spanish)
Top
COTLF Charities
Attending to the most-needy among us, the Church of the Little Flower Charities is an organization which grants modest financial assistance for urgent and emergency human needs. It also assists the broader charitable initiatives of the Catholic community. Run by members of the professional staff and assisted by socially - conscious volunteers and sustained by the gifts of donors and benefactors, COTLF Charities makes the Gospel concrete in its service to others.
Contact

Parish Office
Top
The Couple to Couple League (NFP)
The CCL is an international Catholic organization dedicated to promoting a spirituality of life and love, encouraging an appreciation for the natural order of the human person, and the teaching of fertility awareness and natural family planning to married and engaged couples.
Contact

Carmen Santamaria, carmen.l.santamaria@gmail.com
Top
Cursillos de Cristiandad
A pastoral initiative at the archdiocesan level, whose highlight is a weekend-long retreat, encouraging growth in the Christian life and active participation in the life of the Church. The "ultreya" follow-up meetings assist participants in the continuation of their "4th day" on the journey of faith.
Contact

Roman Lavina, rlavina@msn.com
Top
Divine Mercy
Inspired by the diary of Saint Faustina and her devotion to the Divine Mercy, this ministry fosters devotional life through the regular praying of the Divine Mercy Chaplet, as well as growth in appreciation for the boundless mercy and compassion of the Lord. Days of recollection and retreats are offered throughout the year.
Top
Emmaus for Men and Women (English and Spanish)
The largest and most active spiritual enrichment organization of the parish, the Emmaus movement is a retreat program which encourages a discovery of the presence of the Risen Christ on the journey of life, as exemplified in the Gospel account of the Road to Emmaus. Retreats are available for both men and women, in English and Spanish, and promote a deeper relationship with Christ and the active practice of the Catholic faith at the parish level.
Contact

Joseph Rebak, joseph.rebak@akerman.com (Men)
MariferOrdoñez, mfordonez@earthlink.net (women)
Top
English as a Second Language
English language classes for native Spanish speakers are offered in the context of weekly gatherings. They take place, free of charge, on Thursday mornings to assist native monolingual Spanish speakers in the learning of the English language in a fun and friendly way at the church office. Volunteer presenters, instructors, and curriculum professionals assist in the group dynamics and classroom activities. Group size will be maintained small, so as to optimize teaching and learning in a caring environment.
Contact

Francesca Zepeda, efranchie@sbcglabal.net
Top
Extraordinary Ministers of the Holy Communion
Appointed by the Pastor, EMHCs assist the priests and the deacons in the distribution of Holy Communion at all parish Masses. They are also sent in the name of the parish to take Holy Communion to the sick and homebound.
Contact

Gina Santibañez, santidia@bellsouth.net
Top
Finance Council
Appointed by the Pastor, and assisting him in the fiscal realities of the parish operation, the Finance Council, six members in all, periodically review the financial status of the parish, assist in the production of the annual budget, assess the temporal and capital needs of the facilities, review and affirm the end-of-the-year fiscal report which is sent to the Archbishop, and aid the Pastor in financial decision-making, with an eye to the future.
Contact

Al Corrada, acorrada@corradacpa.com
Top
Franciscanos de Maria
The Franciscans of Mary are centered in the Charisma of Gratitude. Our mission is to live and disseminate the spirituality of gratitude, helping others to understand that it is at the core of the gospels.
Our spirituality has two focal points: The Blessed Mother and St. Francis of Assisi. Following the example of St. Francis, we want to love God who is "Love" and lead others to that Love.
Our formation program "The Schools of Gratitude" will awaken in the participant the consciousness of this debt and our resulting duties to God.
Contact

Elena Srouji, ecsrouji@gmail.com
Top
Homebound Ministry
This is an invaluable service to those members of the parish family who are no longer able to attend Sunday Mass. Arrangements can be made for a home visit by a priest, deacon, or lay minister. Communion, confession, and anointing can be made available and scheduled.
Contact

Gina Santibañez, santidia@bellsouth.net
Top
Homeless Ministry
The COTLF Homeless Ministry is comprised of altruistic volunteers, mainly from our parish, and outside as well, that provide ready served food, drink, and service to the homeless people of Miami, through the Miami Rescue Mission. 100% of our donations of food, come from our volunteers, and neighborhood food stores. We meet once a month on the 2nd Sunday of every month, and our goal is to serve dinner to 350 individuals, men, women and children. Children 14 years and older are welcomed, and will be provided with community service hours James 2:17 So you see, it isn't good just to have faith. You must also do good to prove you have it. Faith that doesn't show itself by good works, is no faith at all, and is dead and useless.
Contact

Joe Lluhi, lluhij@gmail.com
Top
Infertility Ministry
A caring ministry designed to bring spiritual hope and encouragement, support and love, to infertile married couples. Presentations include opportunities for reflection, education, and solidarity with others along the journey.
Contact

Gloria Fonts-Suarez, gloria.fonts@gmail.com
Top
Knights of Columbus
Founded by Father Michael J. McGivney in Connecticut, the K of C is a national Catholic fraternal benefit society, formed to render financial aid to members and their families, to the sick, disabled and needy. Social and intellectual fellowship is promoted among the members, complimented by educational, charitable, religious, social welfare, war relief, and public service initiatives. They also promote priestly vocations, seminaries, and seminarians.
Contact

Dan Biggs, biggsykofc@yahoo.com
Top
Lectors
A liturgical ministry that enables and provides the public reading of Sacred Scripture at daily and Sunday Masses. Lectors also assist in the reading of the Prayers of the Faithful and the weekly parish announcements. Lectoring opportunities are available to both adults and children.
For Ministry schedules, please click here
Contact

Richard Morales, rdmdmd@comcast.net
Top
Legion of Mary (English and Spanish)
The Legion of Mary is a lay Catholic organization whose members promote Marian devotion, holiness, knowledge of the faith, and service to the Church. They encourage the recitation of the rosary, celebrations of Marian feast days, and faith education initiatives.
Contact

Maria Lopez, dr.maria05@yahoo.com (English)
Gladys Maloff, gladhermaloff@gmail.com (Spanish)
Top
Liturgical Environment and Arts Ministry
In this ministry, individuals with an eye for beauty give of their time to make our sanctuary and church, already a masterpiece of elegance, appropriately decorated for the various liturgical seasons of the year. Little Flower is known far and wide for its spectacular sanctuary floral arrangements at Christmas and Easter, which give rise to a worshipful atmosphere of prayer and seasonal warmth
Contact

Carla Rebak, carlarebak@yahoo.com
Top
Marriage Covenant Retreats (English and Spanish)
This is a powerful marriage enrichment ministry, which offers a weekend retreat to help couples become closer to one another and with God. The retreat, offered in both English and Spanish, consists of talks, group dynamics, testimonies, activities, communication exercises (and romantic meals) which help couples deepen their appreciation for the Sacrament of Matrimony at every stage of marriage.
Contact

Carla Rebak, carlarebak@yahoo.com
Joe Rebak, joseph.rebak@akerman.com
Top
Marriage Preparation
An organized effort to prepare engaged couples for the Sacrament of Matrimony, this is a ministry designed to foster understanding of the sacred vows that engaged couples will one day make to one another. It includes meetings with our Wedding Coordinator, presiding priest, other married couples, a compatibility test and review, as well as an Engaged Encounter retreat. It also assists couples in preparation for the wedding liturgy.
Contact

Juan del Sol, jdelsol@cotlf.org
Top
Music Ministry / Choir
Our Catholic heritage places a strong emphasis on the use of music in liturgy to further enhance the spiritual rewards reaped by the congregation during Mass. We are dedicated to upholding this musical legacy at the Church of the Little Flower. Our adult ScholaCantorum, youth, children's, and Spanish choirs, compliment a wide ensemble of instrumentalists and vocalists who provide liturgical music for Masses, concerts, and special events throughout the year.
For more information on this ministry, please click here
Contact

Dr. Dawn Fontana, music@stscg.org
Top
Parish Council / Committees
Appointed by the Pastor, there are twenty-five members, representing a cross-section of the parish, who serve as a "think tank," assisting the Pastor in the current work of the parish, addressing community needs, and helping to formulate a strategic plan for the advancement of the parish. Members work collegially on varioussub-committees such as Development, Marketing & Public Relations, Liturgical Environment and Arts, Temporalities, Social Life &Special Events, Spiritual Life, Hospitality, Census & Membership, and the Centennial Anniversary Committee.
Contact

Parish Office
Top
Photography Ministry
Volunteer photographers provide ample coverage of the plentiful events that take place at the Church of the Little Flower. These visual snapshots are treasures aimed at recording in perpetuity the legacy of the parish, as well as for the immediate goal of website uploading as a record of recent events.
Contact

Maxine Alvarez, Maxinemitchellphotography@gmail.com
Top
Pilgrimage Ministry
Designed to encourage faith-enrichment and community building among the members of the parish, the Pilgrimage Ministry presents multiple options per year to travel both locally and internationally.
Contact

Parish Office
Top
Poetry: A Window to Interiority
A unique Ministry which provides the opportunity for the study of a vast array of poetic literary texts is periodically available for the enrichment of our community. Led by a credentialed instructor of Poetry, small groups gather to interpret classical and contemporary texts which foster interior reflection and enhancement to the spiritual life.
Contact

Maria Crocetti, mariacrocetti3@gmail.com
Top
Prayer Shawl Ministry
The Prayer Shawl Ministry is an ecumenical movement with people praying as they create hand-knitted and crocheted shawls for those in need. If you enjoy knitting, and/or crocheting, or you would like to learn, this is a great opportunity to turn this useful hobby into spiritual riches.
Contact

Katy Dunn, kdbearetc@aol.com
Top
Purpose and Mission Ministry
The Ministry serves as a spiritual compass by helping, supporting, and encouraging those looking to redesign their purpose -in their careers or in life- while transitioning into a path toward personal happiness which keeps God as the North.
The Ministry searches into a wide pool of working possibilities among our parishioners for a new occupation, position or simply new working environment. Anyone who is seeking employment or who may be able to help is invited to connect.
Contact

Saide Rangel, saide@scrmechanical.com
Top
RCIA-Rite of Christian Initiation for Adults
Modeled after the custom of the Early Church, the RCIA is designed to foster a journey of education and discernment, helping adults come to know Christ and grow in the Catholic faith. A series of classes, liturgies, and prayer experiences may lead to the reception of the Sacraments of Initiation. Teams of RCIA leaders serve as presenters and facilitators.
Contact

Deacon Roberto Fleitas, rff120410@gmail.com
Top
Religious Education / CCD
A dynamic program of religious education is available and designed to pass on the Catholic faith to children, the next generation of believers in Christ. Classes take place on Wednesday afternoons and evenings, as well as Saturday mornings, and are organized and coordinated by the parish Office of Religious Education. Among the highlights are the specific preparations for the reception of First Penance, First Holy Communion, and Confirmation.
Contact

Jorge Santibañez, jsantibanez@cotlf.org
Top
Respect Life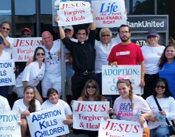 The Respect Life Ministry is an organization that faithfully promotes the teaching of the Church's Magisterium regarding the sanctity and dignity of all human life from conception until natural death. The ministry focuses on public awareness education, pregnancy, and issues relative to public policy.
Contact

Jemima Toyos, cubasjc@bellsouth.net
Top
Sacristans
Caring for the church, the sacristy, the sacred vessels, the sanctuary, and the many details of Mass preparation (and even clean-up) are all at the center of the ministry done by these self-less souls who dedicate their time to the noble ministry of Sacristan, on behalf of the church they love so much.
Contact

List contact as Parish Office.
Top
Scouting (Boy Scouts, Cub Scouts)
The Boy Scouts of America are prominently active at the Church of the Little Flower. With conveniently arranged local packs and facilities, the scouting movement here at the parish has championed the growth of young people in body, mind, and soul, promoting love for God and country, growth in maturity, character, good citizenship, and service.
Contact

Osvaldo Guerra, orguerra13@gmail.com (Cub Scouts)
Martin Clark, stspack16@gmail.com (Boy Scouts)
Top
Schoenstatt Ministry
The Schoenstatt Ministry is a ministry of renewal, a place of grace, and a unique spirituality that seeks to connect the Faith with daily life, especially through devotion to Mary, the Mother of God.
Contact

Alberto or Sylvia Maspons, Albertomasponsg@gmail.com
Top
Son Flower Ministry
A group of dedicated parishioners who strive to make Little Flower a welcoming and inviting spiritual home. The Son Flowers work together in hosting special events, fostering fellowship and community, and organizing the provisions of good hospitality, the emblematic theme of their good work at their many socials, prayer services, receptions, and special events.
Contact

CecePelaez, cecepelaez@gmail.com
Top
Special Children / Special Needs
Seeking to provide a forum for parents of special needs children, the Special Children/Special Needs ministry includes a monthly meeting at the parish, which offers parents in our community the opportunity for interaction, conversation, socializing, and networking, as a way to provide support and encouragement to them through education, the pooling of resources, and the sharing of common experiences.
Contact

Blake Sando, blake.sando@csklegal.com
Top
Spiritual Direction Ministry
There are both ordained and lay members of the parish family that have been trained to accompany parishioners in their spiritual walk of faith. Characterized by periodic spiritual conversations, this ministry provides encouragement, discernment support, and recommendations for growth in prayer and holiness. Appointments are readily available.
Contact

Joy Knox, jk852@hotmail.com
Top
St. Paul Street Evangelization
St. Paul Street Evangelization provides the tools and resources for Catholics to engage the culture in a simple, non-confrontational method of evangelization which involves making themselves available to the public to answer questions about the faith and to pray with those who request it.
Contact

Carlos Espinosa, caespinosa@univision.net
Top
St. Theresa Active Retired Seniors (S.T.A.R.S.)
This is a bi-lingual group of senior citizens in the spirit of community for social events, seasonal festive activities and games (cards, scrabble, dominoes, etc.) and refreshments, sometimes even going to an area restaurant for lunch.
Contact

Maria Elena Coto, cotomariaelena@gmail.com
Top
Talleres de Oración y Vida/Prayer and Life Workshops
These are workshops which offer practical methods on learning how to pray in a progressively deepening manner, ranging from the first basic steps of prayer, all the way to levels of contemplative prayer.
Contact

Blanca Marin, blancasmr1985@hotmail.com
Top
Ushers/Ministry of Greeter
Parish ushers help to bring order and dignity to the House of God by words of welcome, holding doors, assisting with seating, accomplishing a census count, the taking up of the Sunday offerings at collection time, and the directing of the processional choreography of the members of the assembly.
For Ministry schedules, please click here
Top
Vacation Bible Camp
Each summer, the Youth Ministry Office organizes and oversees a wonderful Vacation Bible Camp for children in the month of June. The program, offered at least twice, teaches Christian values in the context of a week of fun, recreation, Bible adventures, science exploration, games, theatre, prayer and much, much more.
Contact

Jorge Santibañez, jsantibanez@cotlf.org
Top
Vocation Ministry
A family to family ministry of prayer for vocations, using the "vocation chalice," it is a way to foster vocational awareness among families and their children, and to pray for the gift of priestly, diaconal, and religious vocations for the future needs and growth of the Church. The Ministry also includes periodic "Andrew Dinners" which gather young men to pray, reflect and socialize in fraternal gatherings which seek to awaken a deeper commitment to church service.
Contact

Hely Santeliz, hely@brickellkeygroup.com
Top
Young Couples / Young Families
Targeting the demographic of adults in their 20's and 30's, the Young Couples - Young Families Ministry is a weekly gathering which, through social and reflective experiences, fosters community, conversation, togetherness, and a deepening maturity about adult Catholic faith. Through conversations regarding topics which range from contemporary events, to faith challenges, from family life, to ecclesial happenings, the ministry brings about social cohesion which more closely identifies participants with their parish and with one another.
For more information on this ministry, please click here
Contact

Eleonora Cacchione, ele6ele@gmail.com
Top
Young Women of Grace
St. Theresa Catholic School and Parish is launching our newest after-school program: Young Women of Grace; a focus on mind, body, and Holy Spirit. This program will help young girls realize the gift of their femininity and the beautiful reality of who they are in the eyes of God.
Contact

Kathy Hernandez, khernandezms@gmail.com
Top
Youth Ministry / Youth Group (Gaudium)
The Church of the Little Flower has a youth ministry program entitled "Gaudium," the Latin word for "joy." Primarily a faith-centered and service-oriented gathering of youth, it ministers to 6th through 8th graders.
Contact

Siulin Kang, siulinkang@gmail.com
Top
Dear Friends in Christ:

As you can see, the Church of the Little Flower, which is among the most historical parishes in all of South Florida, provides a wide array of thriving ministries and services which redound to the glory of the Lord. Animated by the Spirit and sustained by the Eucharist, the source and summit of our lives as Catholics, our participation in ministry and the community life of the parish makes the faith come alive in concrete and palpable ways.

Carefully consider how you might grow in your spiritual lives by participation in these expressions of faith and parochial involvement. Spiritual growth happens when we invest ourselves in the work of the Lord.

May the Church of the Little Flower, the parish we love so much, and its many ministries, help us to more closely follow Christ, our Light.

Rev. Michael W. Davis, Pastor