Sign Up!
As we prepare to observe the Solemnity of Corpus Christi on Sunday, June 19, 2022, we will once again celebrate a 40 Hours Eucharistic Devotion inside the main church. It will begin with 8am Mass on Thursday, June 16th and last until Midnight on the evening of Friday, June 17th.
On Thursday evening, at 7:00pm, Father Stephen and Father Uko will jointly lead a special Holy Hour to pray for peace amid all the violence occurring in their homeland of Nigeria.
Unlike our Adoration Chapel which has the automatic curtain, we must ensure that there is full coverage for the duration of the 40 Hours Devotion, so please be sure to sign up for at least one hour below.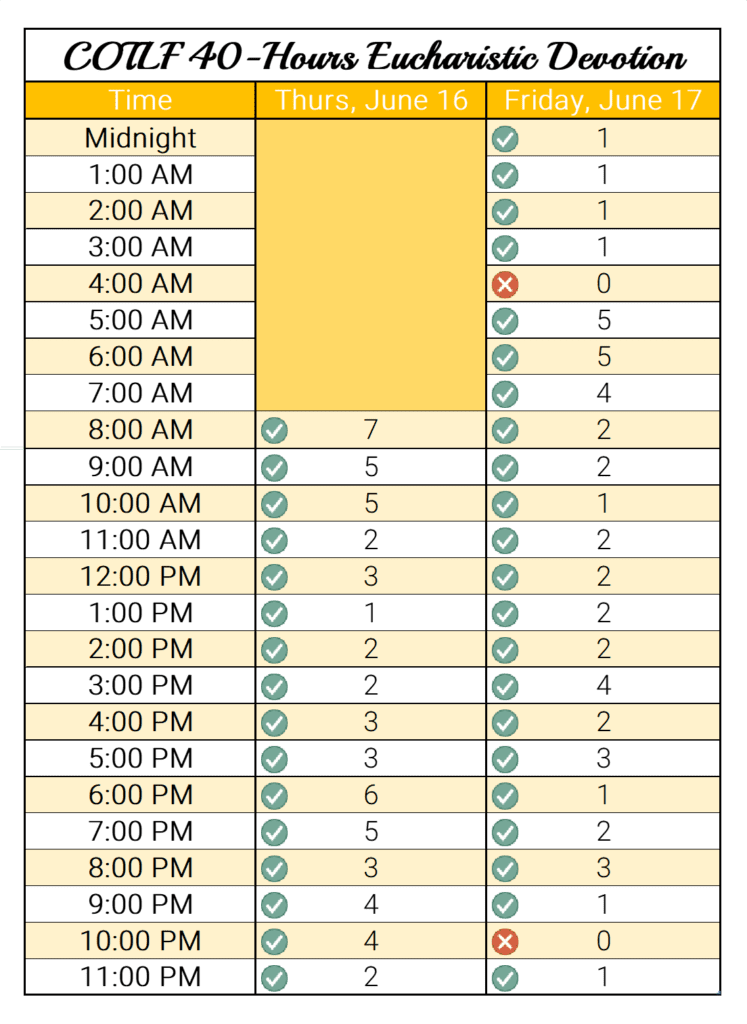 ---
Thank you for your interest in participating in our 40 Hours Eucharistic Devotion.
The sign-up is now closed, but you are welcome to spend time with Our Lord in the Blessed Sacrament
at any time through Midnight on the evening of Friday, January 8th.
---
"When you look at the Crucifix, you understand how much Jesus loved you then, when you look at the Sacred Host you understand how much Jesus loves you now." – Mother Teresa of Calcutta