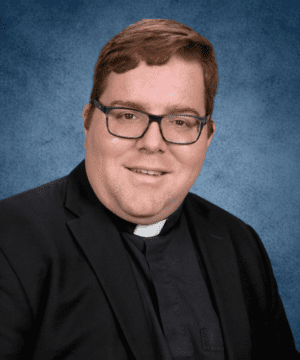 Fr. Andrew Tomonto
Parochial Vicar
"It's in his blood," Elsa Tomonto said of her eldest son's vocation to the priesthood.
Andrew's grandfather, the late Bob Tomonto, was a permanent deacon at the family's home parish of St. Louis in Pinecrest. He and his wife, Irene Tomonto, joined the Christian Family Movement in the 1960s. At St. Louis, they created the Covenant Experience, a parish-based enrichment program for married couples.
"I've always had very, very good priests in my life," said Father Tomonto, who was born in Mercy Hospital.
But Elsa Tomonto didn't necessarily want her son to become a priest. "She's a Colombian mom who wants to be a Colombian grandmother," he explained. His becoming a priest would cut her chance at that by one-third, as Andrew is the eldest of three sons.
"He remembers when he was 12, he told me he wanted to be a priest and I started crying," Tomonto said moments before her son's ordination. "Now we're thrilled."
Father Tomonto said he first vocalized the thought of becoming a priest in seventh grade, as a student at St. Louis Covenant School. He then moved to Marist-run Christopher Columbus High School in Miami, where a couple of archdiocesan priests — both retired now — proved deeply influential: Father Liam Quinn, who taught him theology in ninth grade, and Father Arthur Dennison, who taught him in 11th grade.
But Father Tomonto didn't realize it at the time. At 14, he thought "you couldn't be happy without a family." Looking back later, he realized how Father Quinn changed that perspective.
"This guy is happy. There's a joy in him, and it's infectious," Father Tomonto recalled. "It helped bring down a wall in my mind, a barrier to discerning."
But he moved on, to major in business at the University of Miami.
"This is where the vocation really showed itself," he said. "College was where I had that adult moment when you take ownership of your own faith."
He began "praying more profoundly." During his sophomore year, he attended a vocation awareness weekend at St. John Vianney College Seminary in Miami. He got involved in UM's Catholic campus ministry.
Still, he put off entering the seminary. "I had a good scholarship and I loved college," he said.
He entered the seminary immediately after graduating. "It was just like a puzzle piece fitting," he said. "I went into the seminary and I loved it. I knew that's where I was supposed to be."
As for not having a family: "I haven't found any life that's really that easy," he said. "Each (vocation) has its own challenges and its own joy."
His mother thinks he'll make a good priest. "He's a very comforting person. He's very calm," she said. "I think he's going to be a wonderful person to minister to the people of God."
Originally published June 2020 to the Archdiocese of Miami Website, "Building the City of God" Priest Profiles