From Archbishop Wenski:
The August 14th earthquake brought devastation to Haiti's southwest peninsula and has affected people in three dioceses. And, of course, Tropical Storm Grace's passage on August 16 has aggravated an already desperate situation.
Catholic Relief Services (CRS) has its main base in the city of Les Cayes, which suffered major damage, and is already offering humanitarian assistance. Our Catholic Charities of the Archdiocese of Miami is also collecting funds to assist the great human needs following this latest natural disaster. The US government through USAID and US Coast Guard along with other countries are on the ground offering assistance. Search and Rescue Teams from various parts of the US have responded to help.
However, in a few weeks, when this initial emergency is overcome and these aid workers go home, it is the Church that remains with the people. As Bishop Joseph Gontrand Decoste of Jeremie told me, scores of parish churches, chapels, schools, and clinics have been razed. Rectories have been turned into rubble, like the residence of Les Cayes' Cardinal Chibly Langlois which collapsed injuring him and killing a priest and two employees.
When everybody goes home, the Church will remain with her people. The people are counting on the Church. Help the Haitian Church serve her people.
---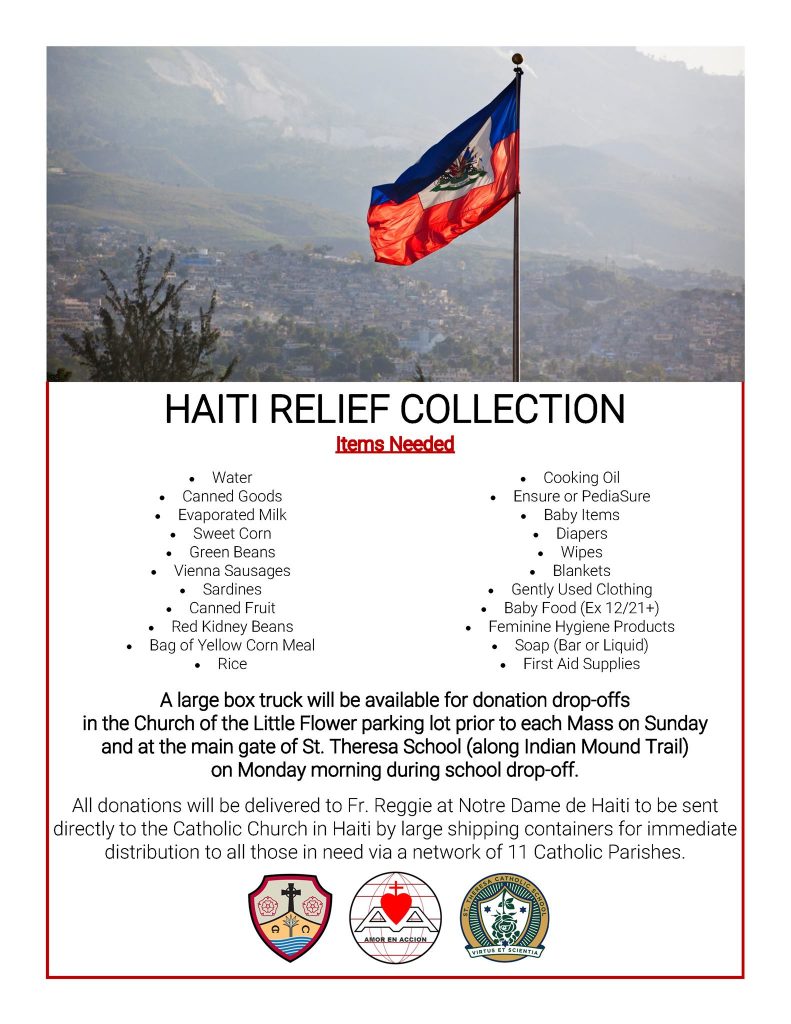 This weekend, in partnership with Amor en Accion, our parish will be hosting a special collection drive to support our brothers and sisters who have been affected by the catastrophic earthquake in Haiti. A large box truck will be stationed in the church parking lot all day on Sunday and again by the main school gate on Monday morning, during STS drop-off, to collect donations. All donations will be delivered to Amor en Accion's 40-foot shipping container at Notre Dame d'Haiti. 11 shipping containers have already been safely delivered directly to the Catholic Church in Haiti, with donated goods being distributed to those most in need via a large network of parish churches. Another 15 containers are currently en route.