Register via the "My Own Church" Portal
Our warmest welcome to all who wish to be a part of our parish, whether visitors, long-time residents or newly arrived in the parish. If you are not registered or need to update your information, please fill out our registration form for access to the "My Own Church" Portal by following the instructions below. Should you have any questions, please feel free to contact us at the Parish Office.
1. Fill out the New User Registration Form.
Be sure to select Church of the Little Flower, Coral Gables from the organization dropdown.
A unique username, Head of Household contact information, and a valid email address are required for registration.
2. You will receive an initial confirmation email that your registration has been received and is pending review.
3. Once approved, you will receive a second email with a temporary password to access the "My Own Church" Portal.
4. After logging in and setting a new password, navigate to the My Family tab > Family Detail to verify or update contact details, add in additional family members, view your envelope number and Giving History, and much more.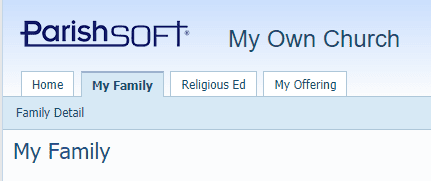 All changes made will require parish approval before they are updated and viewable in the database.
Optional, but Highly Recommended
5. Set up your recurring weekly offertory gift through Online Giving
6. Sign up to receive text message alerts from the parish at Evangelus
7. Download our Parish App