My Dear Friends: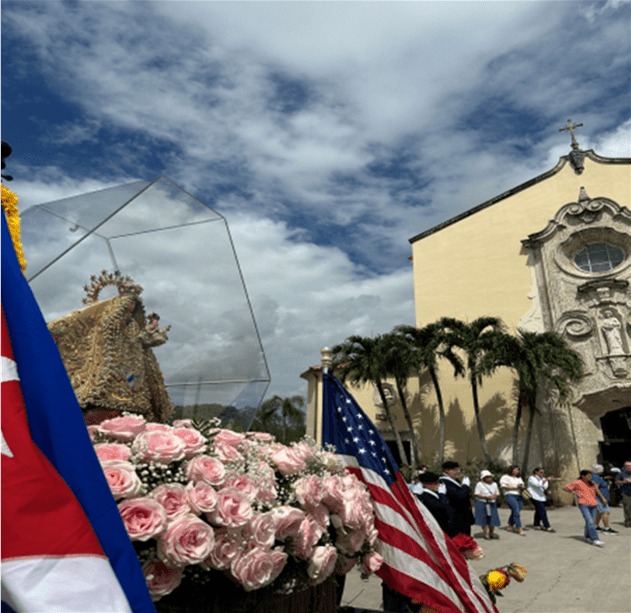 This past Friday we celebrated the Feast of the Nativity of the Blessed Virgin Mary which also coincides with the celebration of Our Lady of Charity, who is the co-patroness of the Archdiocese of Miami and patroness of Cuba. Last weekend, our parish was blessed in such a magnificent way when the statue of Our Lady of Charity that resides over the altar in her Shrine ("Ermita") that sits on Biscayne Bay visited our church. The statue rarely leaves the Shrine. Only on her feast day when Mass is being celebrated at a big arena or auditorium, or as was the case last week, when they take her on a pilgrimage outside the Shrine. Our Lady made 13 stops on a tour around Dade County through landmarks and churches. We were indeed blessed when the rector of the Shrine called to ask me if Little Flower could be one of the stops. 
Our Carmelite Sisters, our priests, and an enthusiastic group of parishioners waited inside the air-conditioned confines of our church to escape the heat, and almost without warning, the sound of police sirens and honking cars led us out of the church as we saw the beautiful sight of a caravan leading Our Lady down Sevilla and Anastasia Avenue coming from Red Road. The pickup truck that carried her parked directly in front of our church where our brides arrive for their weddings. There was palpable joy in the air as we gazed upon the glorious face of our Blessed Mother. Our Carmelite Sisters serenaded her, we prayed a decade of the rosary, and the rector of the Shrine said a prayer of blessing over our parish, so that Mary may protect all of us with her mantle. We took pictures, prayed for Cuba, sang some more, and before we knew it, she departed to her next stop.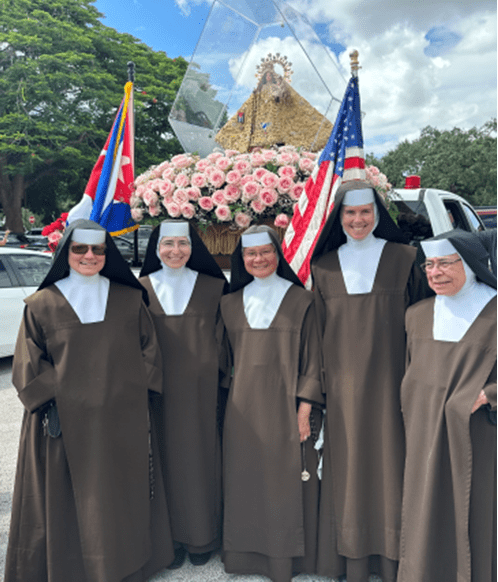 It was indeed an emotional visit. Lots of teary eyes were seen because of what Our Lady of Charity means to so many of our Cuban parishioners and because of what our Blessed Mother means to all of us. St. Thérèse once said: "Do not be afraid of loving the Blessed Virgin too much. You can never love her enough. And Jesus will be very happy, because the Blessed Virgin is His Mother." That evening of her visit as I prayed over this historic pilgrimage to our church, I could not help but think of the words of St. Elizabeth when Mary visited her, "And how does this happen to me, that the mother of my Lord should come to me? (Luke 1:43)" Since I was a child, my family would visit Our Lady at her seaside Shrine, but to have her here on our grounds in front of our majestic church, it made so many of us cry. The rector reminded us that upon receiving the Word made flesh in her womb, Mary went in haste to visit her cousin Elizabeth, and now she was visiting us to bring us the joy of her Son, to bring us his peace. How blessed are we as a parish that our Blessed Mother came to visit us?
And the last words the rector imparted to us? The words of Mary herself telling us over and over again: "Do whatever He tells you (John 2:5)." She is always pointing us to her Son, pointing us to His Presence in the Blessed Sacrament, and pointing us towards the Mass where we encounter the living Christ. Mary is the Woman of the Eucharist par excellence, and she came to us during this National Eucharistic Revival to renew our love for Jesus who waits for us at the altar. May we always give thanks to Mary for her yes and give thanks to her Son who on the cross gave us so noble a mother and queen! Our Lady of Charity, pray for us!
God bless you all,