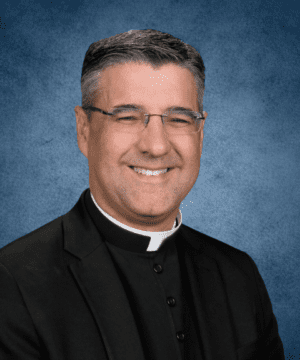 Born to Cuban parents in Miami, Florida on September 23, 1975, he was raised within the parish boundaries of the Church of the Little Flower with his younger sister and brother. During his childhood, his parents were very active in the Hispanic Apostolic Movements of the Archdiocese of Miami especially in the marriage preparation ministry of Camino. A product of parish religious education, he actually attended Little Flower CCD in the 6th grade. He spent his youth involved in many youth ministries especially altar serving, and during high school he spent his summers on mission trips to southern Mexico where he first started thinking about becoming a priest. In 1993, he graduated from Coral Gables High School and immediately entered St. John Vianney College Seminary at the age of 17.   
During his seminary years after his parents had moved to West Miami-Dade County, he began ministering in Mother of Christ Catholic Church on weekends and summers. He led the parish youth group, led Confirmation Retreats, founded and ran the parish summer camp and helped in parish events and liturgies. As part of his seminary apostolic work, he ministered in several area hospitals, worked in Genesis House with AIDS patients, and taught CCD to the children of migrant farmers in Homestead. In 1997, he graduated from St. John Vianney with a Bachelor's Degree in Philosophy and began his theological studies at St. Vincent de Paul Regional Seminary in Boynton Beach.  
In 1999, he was assigned to do his pastoral year at St. Agatha Catholic Church in Miami under the supervision of Father (now Bishop) Felipe Estevez. It was there that Father Estevez first introduced him to a Catholic School setting by assigning him to teach religion to middle schoolers. Father Manny's passion for excellence in Catholic Education can be traced to his first experiences as a teacher at St. Agatha.  
As he finished his studies at St. Vincent de Paul, he continued to do Confirmation Retreats in local parishes and helping out in youth ministry. He balanced ministry with his seminary studies as he worked towards finishing two Masters Degrees with a concentration on Church History and Marian Theology. He graduated from St. Vincent de Paul with a Master of Divinity Degree and a Master of Arts in Theology Degree.  
On May 11, 2002, Father Manny was ordained to the priesthood by Archbishop John Clement Favalora at St. Mary's Cathedral. His first assignment was parochial vicar of St. Agnes in Key Biscayne. There he was able to start up a very successful parish youth group that attracted anywhere from 60-80 young people every week.  He taught religion in the parochial school, and he maintained this practice when he was transferred to St. Brendan Parish in 2005.   
In 2006, he was named Vocations Director for the Archdiocese of Miami and moved back to his alma mater of St. John Vianney. During his time as Vocations Director, he also served as Master of Ceremonies for Bishop John Noonan. Both these ministries allowed Father Manny to visit almost every parish in the Archdiocese to promote vocations. He also worked closely with the Hispanic Apostolic Movement "Encuentros Juveniles" where he visited with young adults weekly and assisted them in Christian formation. His proximity to St. Brendan High and Christopher Columbus High afforded him the opportunity to work in High School Campus Ministry. He served as the Chair of Archdiocesan Vocations Board which recruited many fine young men who now serve as priests throughout the Archdiocese.  
In 2009, he was assigned as parochial vicar of Mary Help of Christians in Parkland where he returned to parish life and oversaw the Hispanic Ministry of the parish. At this assignment, he began to get more involved in school administration in a rapidly growing parish and school. In 2011, he was assigned to serve a brief stint as parochial vicar of St. Gregory the Great in Plantation where was tasked by Archbishop Thomas Wenski to start the first Sunday Spanish Mass in the parish. While at St. Gregory, he began celebrating Masses for the Miami Dolphins and then was granted permission by the Archbishop to travel with the team and serve as their team priest. He travelled all over the country and twice oversees with the team representing the Church for five seasons.  
Father Manny received his first pastorate when was named the Administrator and eventually pastor of Our Lady of Divine Providence in Sweetwater in November 2012.  He worked closely with the Religious Education program and expanded the liturgical life of the parish by focusing on the rich religious traditions of the diverse Hispanic communities.  
In July 2014, he was named pastor of Immaculate Conception in Hialeah where he embraced the opportunity of returning to a parish with a parochial school. He was also charged with caring for the Cloistered Discalsed Carmelite Nuns that lived behind the school.  During his five year tenure at Immaculate, he helped grow enrollment to what was once the largest school in the Archdiocese by highlighting the wonderful history of the parish and school. Liturgies and Adoration of the Blessed Sacrament were particular points of emphasis that helped the parish and its ministries grow in addition to many social and outreach programs that sought to raise awareness of the parish and its programs to the local neighborhoods. While serving as Pastor, he also served as a member of the Board of Trustees of Monsignor Pace High School.  
In June 2019, Father was named the ninth pastor of the Church of the Little Flower and St. Theresa Catholic School.  He led the parish during the tumultuous time of the COVID pandemic bringing the gospel to parishioners in different ways when they could not come to Mass.  He continues to champion the ongoing adult formation of the Catholic faithful and opened up the parish Adoration Chapel with round the clock access to parishioners.  In October 2019, he was invested as Knight Chaplain of the Equestrian Order of the Holy Sepulchre, and June 2020 he was elevated to the 4th Degree of the Knight of Columbus.  He works closely with the Carmelite Sister of the Sacred Heart of Los Angeles who teach in St. Theresa Catholic School in providing an excellent Catholic education to their students and is currently working towards the grand celebration of the school and parish's centennial celebration which occur in 2025 and 2026 respectively.  
In addition to his responsibilities in the parish, Father Manny also sits on the Archbishop's ABCD Council of Pastors, the Presbyteral Council, the Archdiocesan Vocations Board, and on the Board of Advisors of Belen Jesuit Preparatory School. He is also a consultant and collaborator to the Archdiocesan Office of Communications and to Radio Paz, and leads the Archdiocesan Youth Office delegation along with all the high school students of the Archdiocese to the annual March for Life in Washington, D.C.